In
part one
of my Intranets Live Feb 09 event coverage I talked through Nokia's "News hub" front page, news item comments and Nokia's use of the Kyte platform to deliver video for multiple devices/platforms from a single source. I also talked through William Hudson's discussions of image use on intranet pages.
Here in part two I'm going to cover Nokia's personal profile pages.
Nokia Personal Profiles
Angela Huffman from Nokia used the last segment of Intranets Live Feb 09 to share the personal profiles the intranet delivers for each employee.
Angela outlined that the current look feel and functionality was being reviewed and there were plans to "share more information and improve searchability". Angela outlined how the interface was changing from tabs to "FaceBook like portlets".
For Nokians the 'presence' indicators available via the intranet are very very important.
The system draws information from multiple sources SAP, project mangement databases and existing legacy systems e.g. skills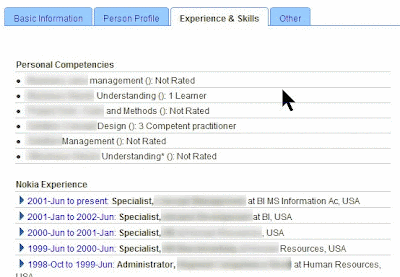 The profile also allows users to enter a large ammount of free text into the 'Person profile' tab. The goal here was to provide a searchable location for less formal information that staff may want to share with their collegues and for information that couldn't be dragged from legacy systems e.g. Current activity / projects the person is working on at present. This was due to the fact that different divisions use different project management software.
Angela was then very kind to address quite a few questions that had come in during her two sessions. I noted only a few.
Overall the intranet is built on a domino lotus notes base
Delivers visibility to information from multiple systems
Photo is from security badge but staff can submit their own, which is moderated to ensure it is a photo and not a cartoon character
Several of the others who were co hosting commented that this was a very comprehensive staff directory and that the personal calendar integration, plus current physical location were very innovative.
In my mind providing information on when the person you're looking for is available, if they're busy, really starts to get to the useful pointy end of presence (busy, free). Because when I want to collaborate with someone it is useful to know that they're busy but it is so much more useful to know that they're busy on holiday for 3 weeks rather than out to lunch for an hour. Great work Nokia.
Richard Dennison, senior manager Social Media at BT, rounded out the event with further great comment and insight. On the topic of 2.0 Richard suggested that when trying to introduce 2.0 into the enterprise go for evolutionary change not revolutionionary change. "Pitch the benefits not the hype". Richard was a great co-host and added a lot to the value of the whole event for me. I had to laugh out loud when I read
Richard's post from November 2008
, as it is exactly what I've just experienced writing up these two blog posts LOL
Finally for this post a little on the technology that Intranets Live is being delivered with, which I really like.
IntranetsLive uses Microsoft Office LiveMeeting for their virtual events. One of the nice features is that people can listen via the web or phone call in. This does put the web listeners at a slight disadvantage in that they can't easily participate in the verbal conversation and have to use the Q and A panel - which is not that nice an interface, but it does lower the cost of participation substantially - unless of course you've got a SkypeOut account and call one of the toll free numbers for $0. One other nice feature of LiveMeeting that the IBF team are using is hold music prior to the event.